SENSORS EXPO - ACEINNA Launches and Demonstrates New Sensing Technologies
ACEINNA to Showcase Industry Leading Sensing Solutions for Autonomous Vehicle Guidance and Current Management
June 11, 2019 - Andover, Massachusetts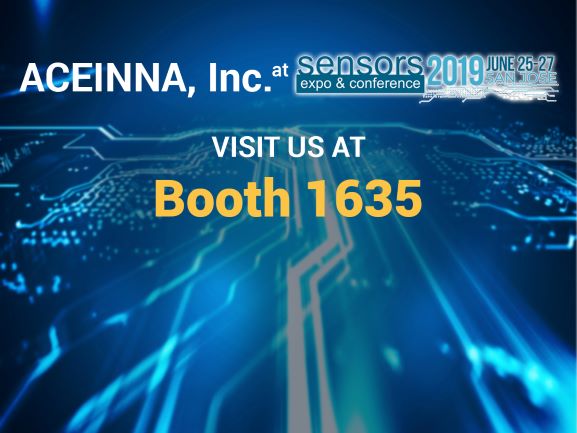 ACEINNA plans to demonstrate its latest sensing technologies and solutions at Sensors Expo & Conference 2019, to be held June 25 to June 27 at the McEnery Convention Center in San Jose, California.
ACEINNA is at Booth 1635.
ACEINNA will be demonstrating new sensing solutions – Current Sensors for use in high power computing and industrial applications, as well as new Inertial Measurement Unit sensors used to help autonomous vehicles (from farm equipment to self-driving taxis) to safely and reliably navigate farm fields as well as crowded urban streets.
In addition, ACEINNA will be presenting at the show:
Dan Dempsey – 10:55am to 11:25am, June 26 – Automotive Technology Theatre - How to Quickly & Easily Build Your Own Reliable, Inexpensive, and Precise Guidance System for Autonomous Vehicles
Mike Horton – 3:30pm to 4:20pm, June 26 – MEMS Track, Executive Ballroom A - High Integrity, Fault Tolerant Open Inertial Measurement platform for AI Based Vehicle Automation
To set up a meeting at Sensors Expo to learn about ACEINNA's latest high performance, high quality sensing solutions, please contact Dan Dempsey at <ddempsey@aceinna.com>.
PR Contact & Media Meetings at Sensors Expo:
ABOUT ACEINNA
ACEINNA Inc., is a leading provider of sensing solutions for automotive, industrial, telecom, datacenter, agricultural and construction markets.
ACEINNA's precise positioning solutions are MEMS based, open-source, inertial sensing systems that are leading the industry by enabling easy-to-use, centimeter-accurate navigation systems for the autonomous revolution. ACEINNA's current sensor product family is based on AMR technology that enables industry leading accuracy, bandwidth and step response in a cost effective single-chip form factor. ACEINNA has R&D facilities in San Jose, CA; Andover, MA; and Chicago, IL; as well as manufacturing facilities in Wuxi, China.
FOR MORE INFORMATION
ACEINNA Inc., One Tech Drive, Suite 325, Andover, MA 01810
Tel: 978-965-3200 Fax: 978-965-3201
Email: info@aceinna.com